Most of us have heard the saying "There is no such thing as bad publicity." When it comes to singer-songwriter Joy Villa, this couldn't be truer. The artist decided to turn heads on the 59th Annual Grammy's red carpet by wearing a red, white, and blue dress that unveiled "Make America Great Again." For those unfamiliar with President Trump's slogan, it clearly stated on the back in bold letters the name of the man himself. Villa definitely created waves but it might not have been the perfect surf she was looking for. On social media it was more like a tsunami causing mass destruction in its wake.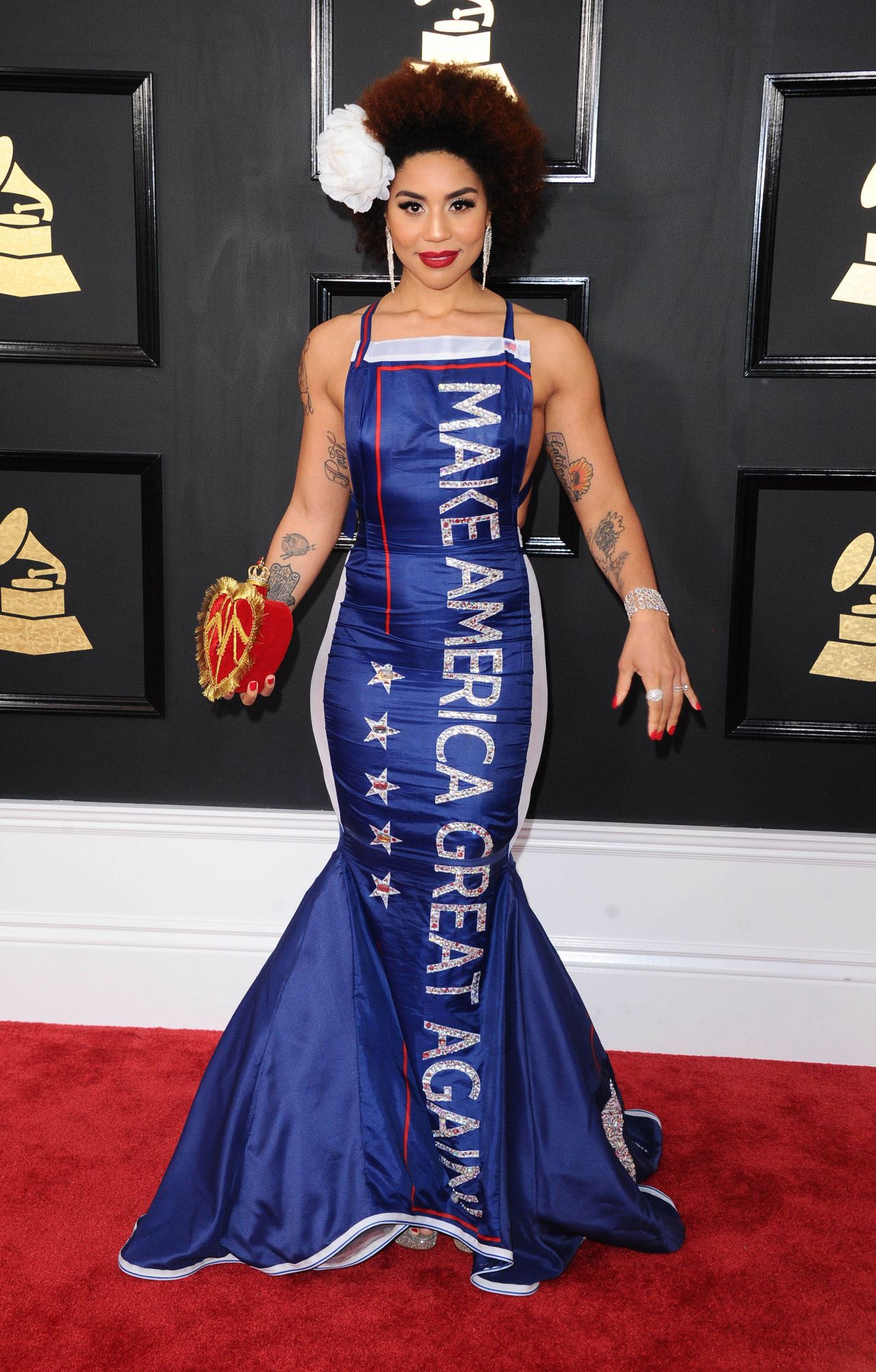 The singer posted a photo of herself on Instagram at the award show wearing the outfit and stated:
"Go big, or go home. You can either stand for what you believe or fall for what you don't. Above all make a choice for tolerance and love. Agree to disagree. See the person over the politics, carry yourself with dignity, always. Life is made to be lived, so go boldly and give no effs!"
Without question Villa went big, but from the majority voice on social media, they wanted her to go home. Thousands of people commented on Instagram bashing the singer while others took to Twitter sharing their lack of patience for her political stunt.
Whether you liked Villa's outfit or not, the twenty-five-year-old singer's Pro-Trump dress parlayed into what was, one can only guess was her definitive goal, skyrocketed music sales! Villa's 2014 album I Make the Static, jumped to number one on Amazon's top digital albums and was still there the following day on Monday. She also became #1 on Apple's U.S. iTunes Store. Her presence on social media soared as well. On Twitter she went from 15,000 followers to 116,000, quite literally overnight.
Perhaps Joy Villa was taking J.Lo's lead by wearing something provocative. J.Lo's popularity soared when she wore Versace's "barely there" green chiffon dress to the 42nd Grammy Awards back in 2000. The Grammy's are known for their unconventional outfits, with many viewers tuning in just to see what the artists are wearing. Lady Gaga arrived on the red carpet with what can only be described as two pieces of black leather barely covering her ample front. But Joy Villa took front and center with her politically charged statement and has album sales to prove it.
Whether the message Joy Villa was sending was perceived by the majority as negative, the publicity was earned and she ended the night as the 'sly fox who caught the award'. In the music business where legends are only as good as their last hit, gaining any type of publicity for herself was an achievement all alone. So the saying does hold true; 'Bad publicity is better than no publicity.' Joy Villa is basking in this acknowledgement and taking the money to the bank.
-Haley Corkery │ Public Relations Specialist